We gather on the 1st and 3rd Sundays...
We meet on the 1st and 3rd Sundays for our neighborhood church gatherings in homes, back yards, parks, etc. Then on the 2nd and 4th Sundays we post a teaching of some kind to our website that we process together when we gather in the neighborhood. Due to COVID-19 we are primarily streaming online, though a limited number of seats are available at our location, House Cup Coffee Roasters. You can use the form at the bottom of this page if you'd like to register to join us.
You can watch past gatherings and teachings on YouTube or visit our Sermon Page & Podcast.
Join us for:
Join Us In Person
We know meeting someone for the first time can be intimidating, and going to a new church for the first time can be nerve-racking. We want to help make your first experience at The Mill Church a great one!
Gathering TIMES
The Mill Church meets on the 1st & 3rd Sundays at 10:00am
We're currently meeting on the 1st and 3rd Sundays in-person for our neighborhood church gatherings. On the 2nd and 4th Sundays we post a teaching of some kind to our website that we'll further engage with when we gather together for the neighborhood groups.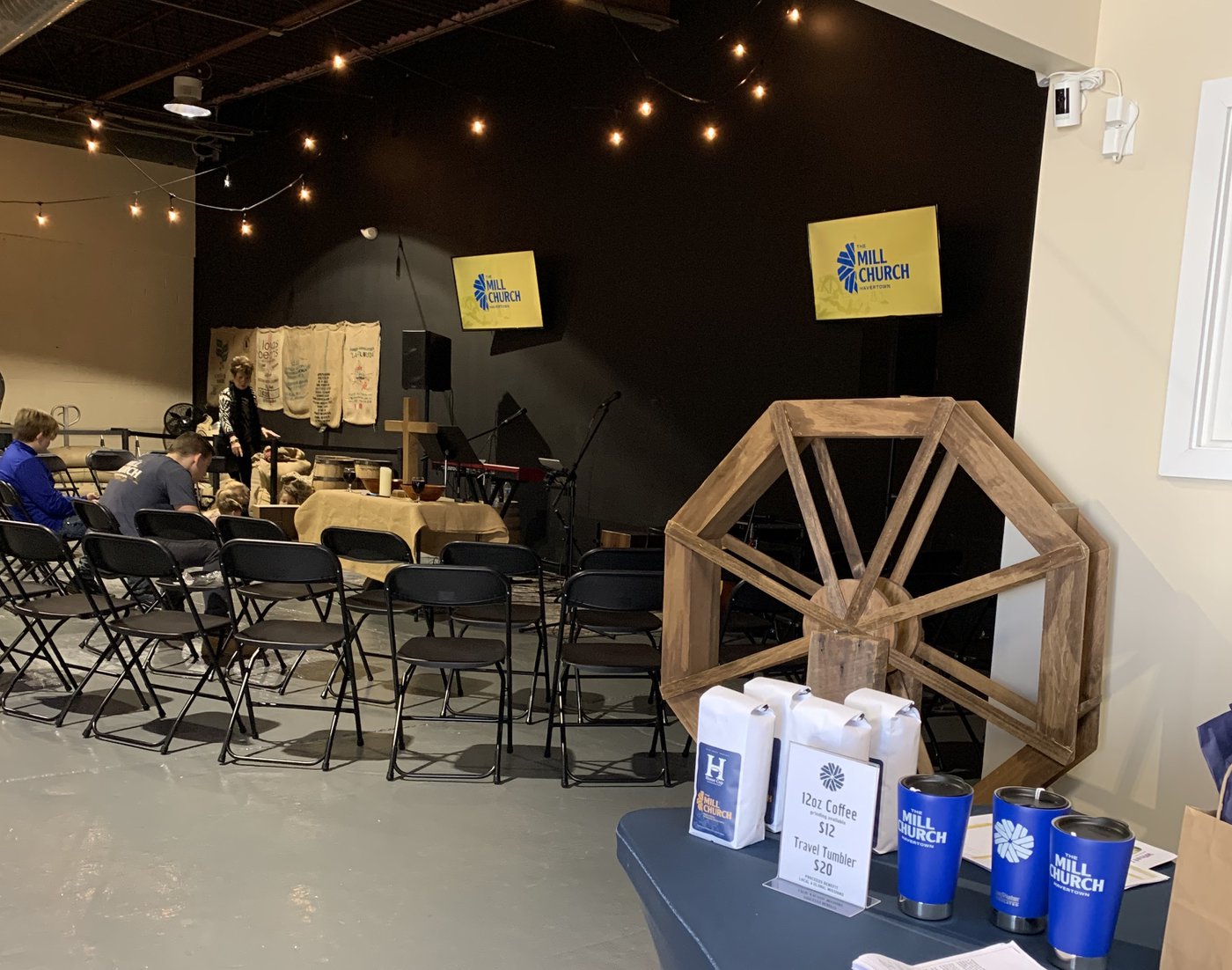 LOCATION & DIRECTIONS
The Mill Church has typically met at House Cup Coffee Roasters - 95 S Eagle Road, Havertown, PA 19083. However, due to COVID-19 we are currently meeting in the neighborhood in smaller groups.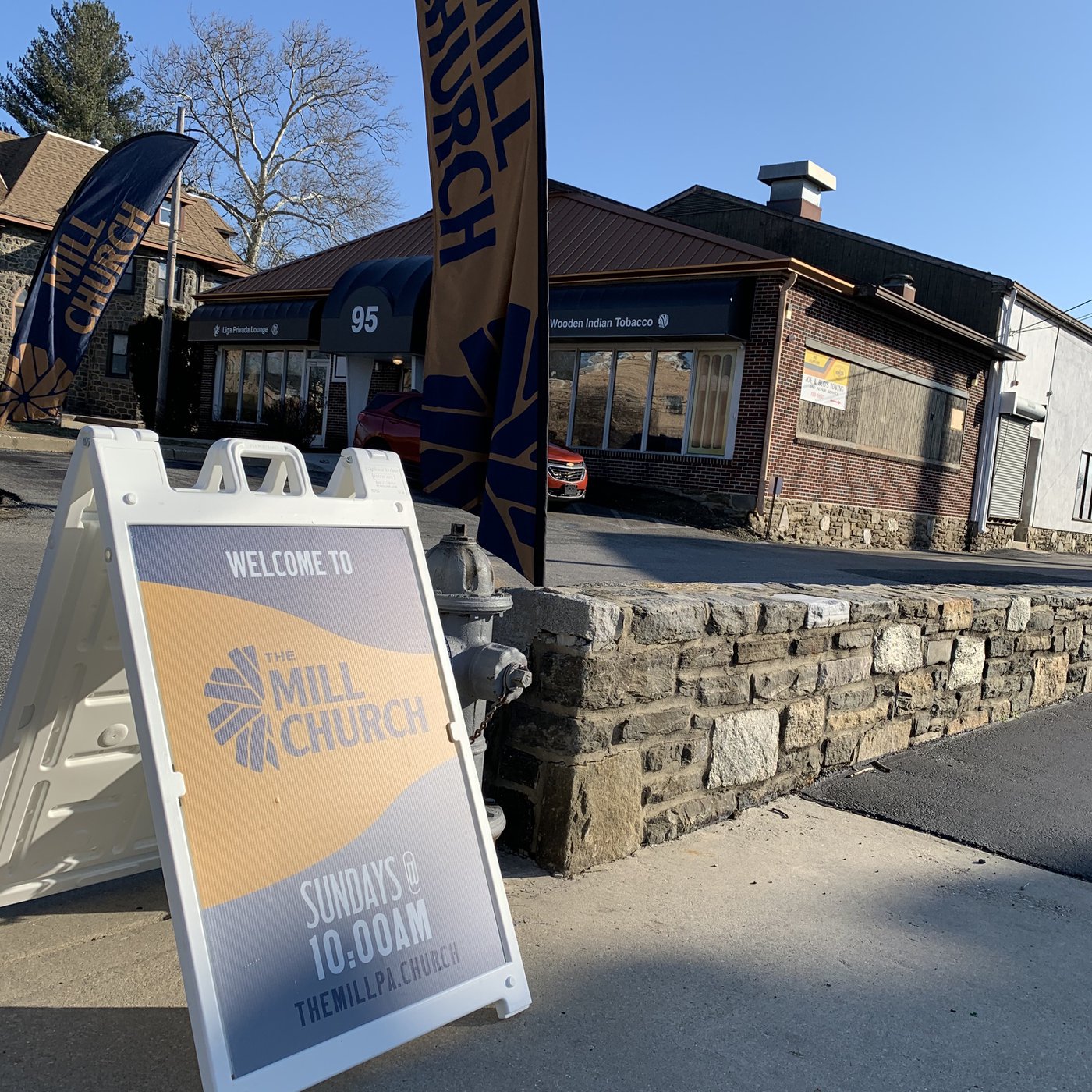 What can I expect?
What is a MIll CHURCH Gathering Like?
In total, a Mill Church gathering is about 75 minutes in length. Our gatherings include Christian practices both old and new: silence, modern music and singing (guitar, piano, hand drums), written historical and spontaneous prayers, teaching and discussion, communion, and of course really good locally custom brewed coffee. On the 4th Sunday of the month we typically gather around tables for what we call brunch church for greater conversation and processing together. If you'd like to read more about our Sunday morning flow, click the image below. Our gatherings are casual and relaxed. Whether you've had experience in the church in the past, been encouraged or wounded by church, or you're spiritually seeking for the first time, you are welcome as our guest.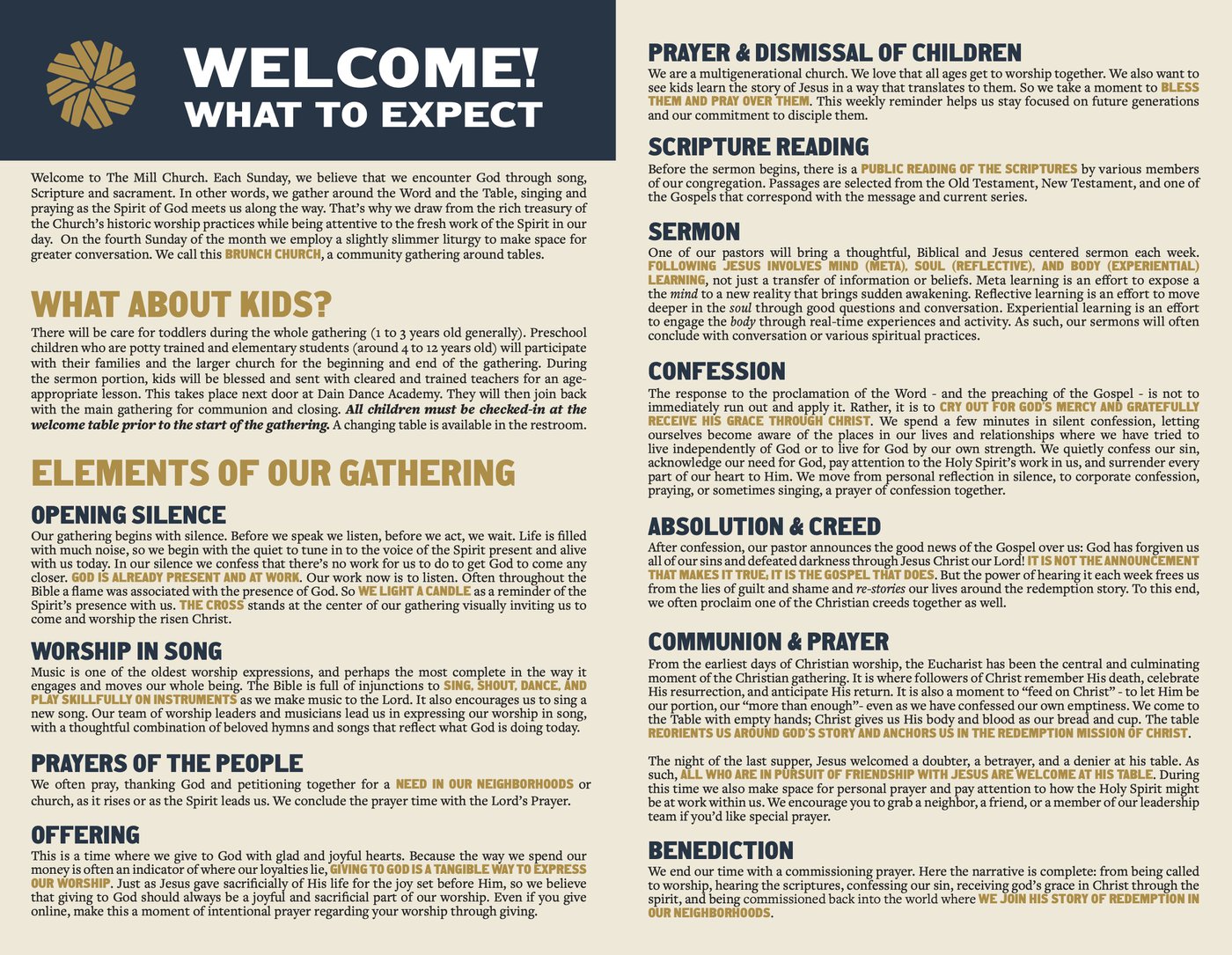 What about my kids?
We love kids and value family! As a matter of fact, we make a point each week in the middle of our gathering to pray for and bless our children. We want that to be a visible reminder to us that we are about the next generation. We also know that parents need some processing space as well. As such we provide care for walkers until potty-trained during the whole gathering (1-3 year olds generally). Preschool children who are potty-trained and elementary students (around 4 to 12 year olds) will participate with their families and the larger church for the beginning and end of the gathering. During the teaching and discussion portion, kids will be blessed and sent with cleared and trained teachers to have a lesson and will join back with the main gathering for a closing time of communion and singing.
Your children's safety is a priority to us. Because of that, we have a detailed check-in process for our Mill Kids program the first time that you visit. You'll want to leave yourself an extra few minutes to get signed in for the The Mill Kids. Our kids meet next door at Dain Dance Academy.
*Currently due to COVID-19 we do not have the typical Mill Church kids gatherings and care. During our online gatherings we still make sure to engage the kids with a lesson and prayer. In addition, our neighborhood house church meetings are a great place for kids to learn how to engage with all generations.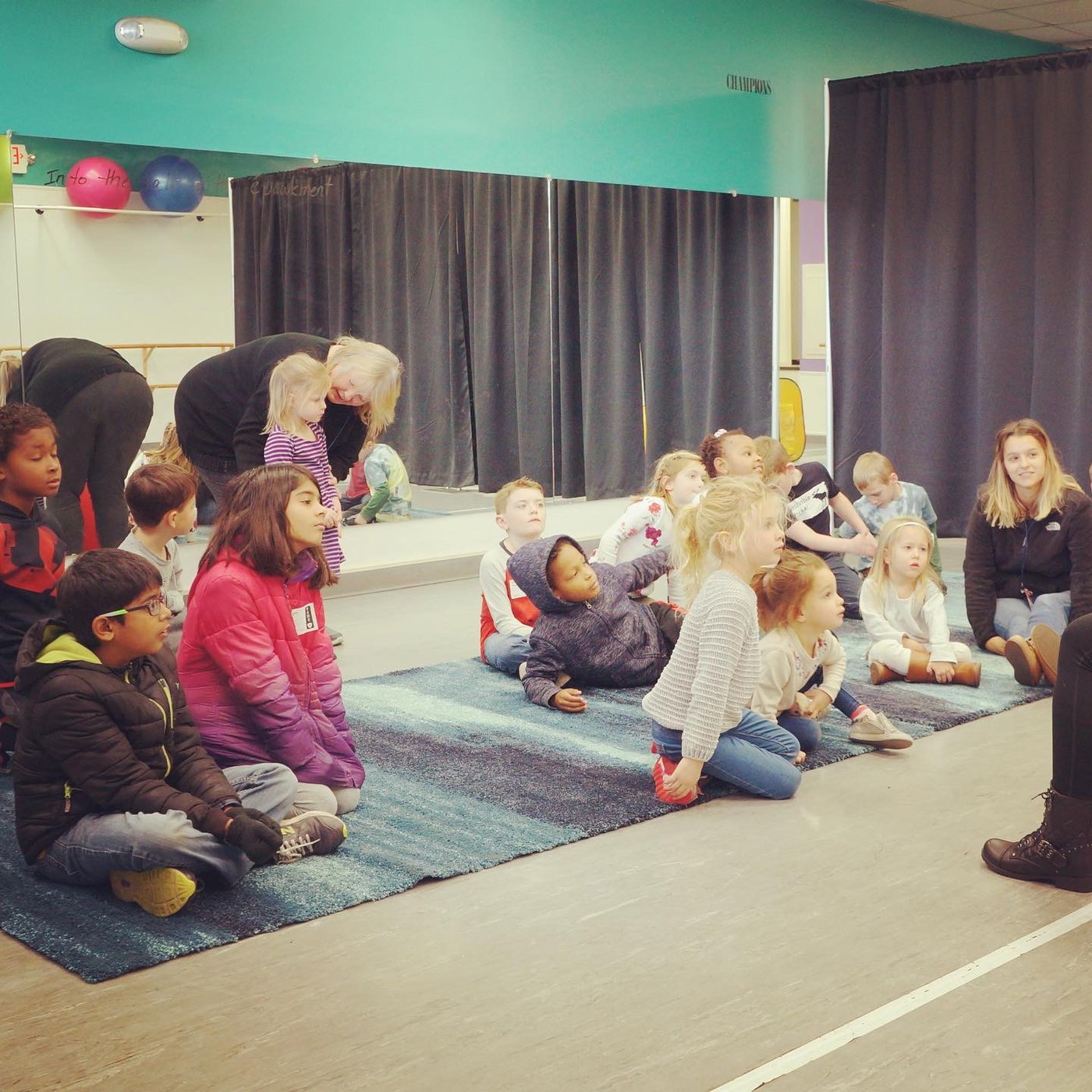 What Kind of church are you?
We are a Christian Church who loves Jesus and the greater Havertown area. Our pastors have roots in the Pentecostal and Methodist church. We affirm the Apostles and Nicene Creeds. But in all of that what's most important to us are the words, works, and ways of Jesus. You can learn more about our beliefs, partners, values, and leadership here:
Why start a new church?
We love the existing churches in Havertown and have been connected to them and their leadership from our inception. We believe that new churches add something of value to both the community and to the established churches. It's kind of like having kids. New life always brings value and purpose to parents and grandparents. We hope to add value to both Haverford Township and to the Christian community. New churches also have a way of reminding all of us of the essentials and a unique ability to risk and innovate in a way that many established churches can not afford.
What's Up with the name?
The Mill Church is a new church in Havertown. Our name is inspired by area mills that were once a crucial element of the flourishing of our communities. By tapping into to the power of water, mills produced many of life's necessities. Mills were first and foremost a place of transformation. From their messy, raw forms, materials were processed into a more refined product — like cotton into yarn, or wheat into flour. That's how we envision the church; a place to come with all our messy, raw realities to process life, together. Read more here>>
Let us know you're coming
Ready to check out The Mill Church in person? We can't wait to meet you (whether online or in-person). Simply fill out the form below and we'll make sure to connect with you further.